Maatregelen rondom het nieuwe Corona virus
Beste ALL INN member,
Wegens de huidige omstandigheden rondom het Corona-virus zijn wij gesloten tot en met 6 april 2020 tenzij de maatregelen verlengd worden.
U hoeft zich absoluut geen zorgen te maken, het termijn dat wij niet geopend zijn zullen wij volledig verlengen +50%. (voorbeeld: Als wij 14 dagen gesloten zijn zullen wij er 50% aan toevoegen, met andere woorden krijgt u van ons 21 dagen tegoed). Dit zullen wij achter uw huidige looptijd plaatsen, hierdoor gaat er bij u geen dag verloren!
Dit doen wij om u een hart onder de riem te steken (de tijd dat wij verplicht gesloten moeten zijn volgens richtlijnen vanuit het RIVM).
Voor actueel informatie volg ons op onderstaande kanalen:
– Het ALL INN Fitness & Health mailverkeer.
– Installeer de ALL INN Fitness & Health applicatie.
– https://apps.apple.com/nl/app/sportcom/id1301211904?uo=4
– https://play.google.com/store/apps/details?id=com.concapps.swiminapp
• Voor de ZOOM applicatie. Via deze applicatie kunt u onze online groepslessen volgen. De tijden en overige informatie kunt u verder in deze mail lezen.
o http://zoom.us/j//8581318145
o Let op: dit geldt alleen voor de Pilates & yoga lessen!
• PT30: Heeft u normaal PT30 training staan, uw persoonlijke begeleider contact u over de nieuwe afspraken. Mocht er geen contact zijn opgenomen mail dan even naar Info@allinnfitness.nl
• Heeft u een afspraak voor een rondleiding of inschrijving, wordt u nog persoonlijk door ons gemaild of gebeld!
• Indien u vragen heeft kunt u deze het beste naar ons mailen op: info@allinnfitness.nl. Dit komt doordat we telefonisch niet bereikbaar zijn.
• Blijf tevens op de hoogte van onze social media kanalen zoals Facebook en instagram. Op deze kanalen komen tevens leuke challenges en trainingen die u vanuit huis kunt volgen.
Wij hopen op uw begrip en dat we u snel weer kunnen ontvangen! In het onderstaande bericht informeren wij onze pilates deelnemers over de virtuele interactieve groepslessen.
Informatie over de ZOOM applicatie voor de Yoga & Pilates lessen.
In verband met het corona-virus willen wij jullie toch in beweging houden. Wij hebben besloten om alle pilateslessen door te laten gaan op de reguliere tijden
Dit bieden we aan via een livestream waar je op kan inloggen. Dit gaat heel simpel via je de onderstaande link.
http://zoom.us/j//8581318145
Zorg dat je ongeveer 10 minuten voor de lestijd ingelogd bent en jij bent ready to go!
In het geval dat er om een meeting ID wordt gevraagd: Meeting ID:858 131 8145
Lestijden Pilates:
Maandag: 10:00 – 11:00
Woensdag: 10:00 – 11:00  –  19:00 – 20:00
Vrijdag 10:00 – 11:00
Zaterdag 10:00 – 11:00
In onderstaande afbeelding ziet u ons online groepslesrooster. De pilates lessen vinden plaats op applicatie ZOOM. Deze is te downloaden in de link in bovenstaand bericht.
De andere groepslessen zoals een HIT training, Buikspierkwartier, Yoga, Bootybuilding en Kick en Fun gaan gewoon door!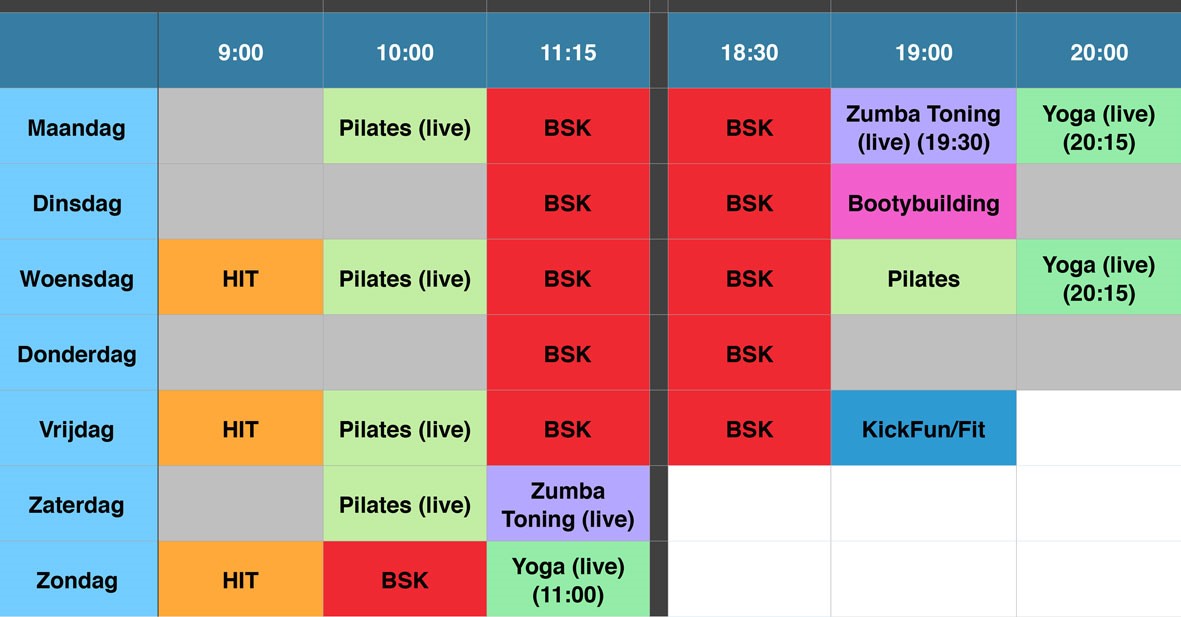 Dear ALL INN member,
Due to the current circumstances surrounding the Corona virus, we are closed until April 6, 2020 unless measures are extended.
You do not have to worry, we will fully extend the period that we are not open + 50%. (example: If we are closed for 14 days, we will add 50%, in other words you will receive 21 days credit from us). We will place this behind your current term, so you will not lose a day!
We do this to support you (the time when we are obliged to be closed according to guidelines from the RIVM).
For current information follow us on the channels below:
· The ALL INN Fitness & Health mail traffic.
· Install the ALL INN Fitness & Health application.
· For the ZOOM application. Via this application you can follow our online group lessons. The times can be down below in the e-mail
o http://zoom.us/j//8581318145
o Note: this only applies to the Pilates & Yoga classes!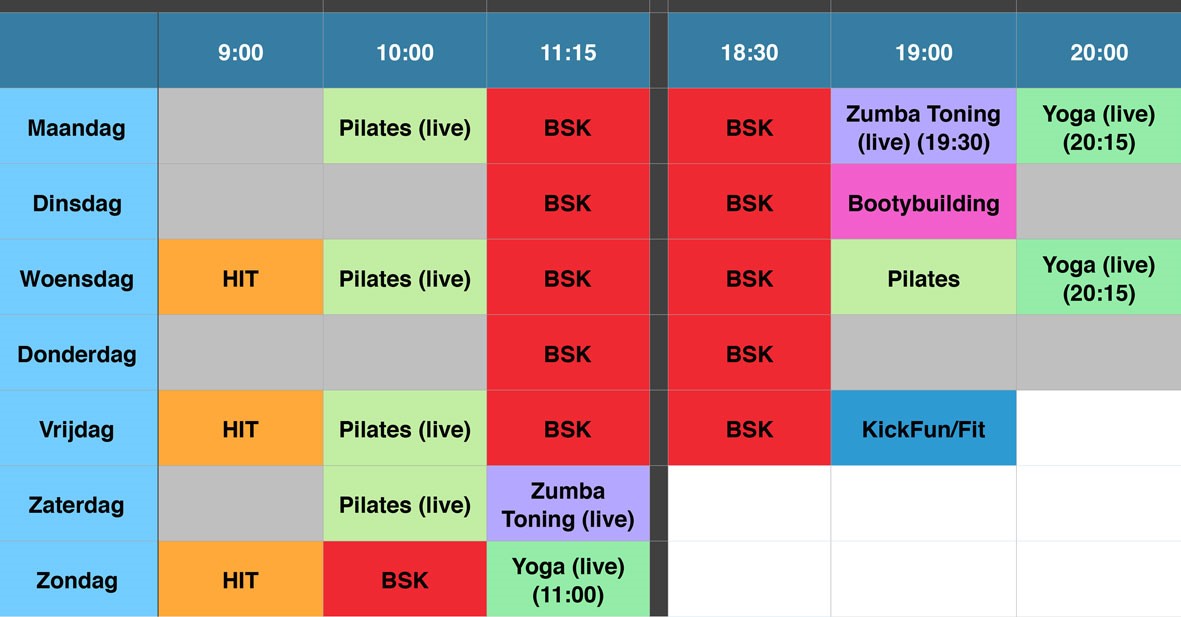 · PT30: If you normally have PT30 training, your personal guidance wil contact u about the new appointments, if you are not contacted send a mail to info@allinnfitness.nl
· If you have an appointment for a tour or registration, you will still be emailed or called personally!
· If you have any questions, it is best to email them to: info@allinnfitness.nl This is because we are not available by phone.
· Also stay informed of our social media channels such as Facebook and Instagram. These channels also include fun challenges and training courses that you can follow from home.
We hope for your understanding and that we can receive you again soon! In the message below we inform our pilates participants about the virtual interactive group lessons.
Hey everyone,
We still want to keep you moving in connection with the corona virus. We have decided to continue all pilates lessons at regular times
We offer this via a live stream where you can log in. This is very simple via the link below.
http://zoom.us/j//8581318145
Make sure you are logged in about 10 minutes before class time and you are ready to go!
If they ask u to give a Meeting ID, fill in: 858 131 8145
Pilates lesson times:
Monday: 10:00 am – 11:00 am
Wednesday: 10:00 am – 11:00 am
19:00 am – 20:00 am
Friday 10:00 am – 11:00 am
Saturday 10:00 am – 11:00 am
Yours sincerely,
Team ALL INN Fitness & Health